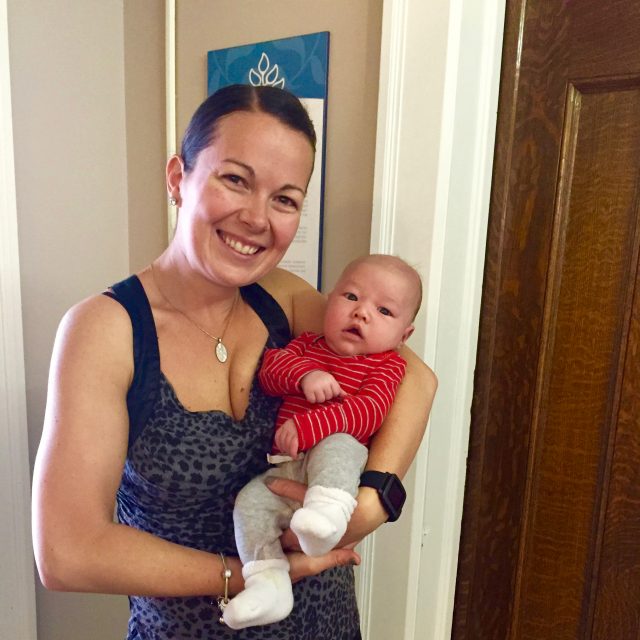 Hayley Ross, B.HSc. R.M.
Registered Midwife
Hayley joined the Thames Valley Midwives team in 2009 after moving to Canada and completing the International Pre-Registration Program in 2008. She grew up in England and began her midwifery degree in 2004. While working as a midwife in the U.K, she worked with families from many different cultural milieus and gained extensive experience in both low and high risk pregnancy and birth. Her work extended to a small community based clinic where she worked with South Asian and African families living in poverty and homelessness.
Over the years, Hayley has become very experienced in lactation education with an avid interest in holistic pregnancy, labour and postpartum care. Hayley & her husband have two gorgeous children with her births supported by her colleagues.
She is passionate about promoting a healthy pregnancy & she thoroughly looks forward to meeting you and your family!

Yuefang Liu, B.HSc. R.M.
Registered Midwife
Yuefang was very excited to join Thames Valley Midwives in 2015.
She completed the International Midwifery Pre-registration Program at Ryerson University in 2009. Yuefang then worked with the Midwives of Grey Bruce in Owen Sound and Diversity Midwives in Toronto.  Having the opportunity of working in both rural and urban practices provided her with valuable experience.
Yuefang is an immigrant from China obtaining her University Medical Degree in 1998. Following this, she worked for six years as an Obstetrics and Gynaecology Doctor before coming to Canada to pursue a career in Midwifery.
She has a young daughter and son who were both born with the support of Midwives. She thinks it is a privilege to care for childbearing parents and finds the process of pregnancy and childbirth amazing. "Thank you for inviting me to be a part of this process and to share your joy as you welcome a new family member. I look forward to meeting you!"

Esther Owusu-Ababio, B.HSc. R.M.
Registered Midwife
Originally from Ghana, Esther moved to England in 1998 as a student nurse. After graduating in 2001, she worked as a Registered Nurse in an acute respiratory unit at The Hillingdon Hospital in the County of Middlesex. During that period, she developed a strong desire to become a Midwife after her own birthing experiences of her three beautiful children. In March 2003, she embarked upon her Midwifery education at Thames Valley University in London, England. Upon obtaining her Bsc(Hons) Midwifery in August 2004, she enjoyed practicing Midwifery in the diverse community of Hillingdon in England, caring for both high and low risk clients and their families for 8 years.
In September 2012, Esther moved to Canada to pursue the International Midwifery Pre-registration Program, during which she obtained a placement at Thames Valley Midwives. Esther has worked with us ever since.
"It has truly been a blessing to be part of this amazing team and I look forward to being part of your special journey."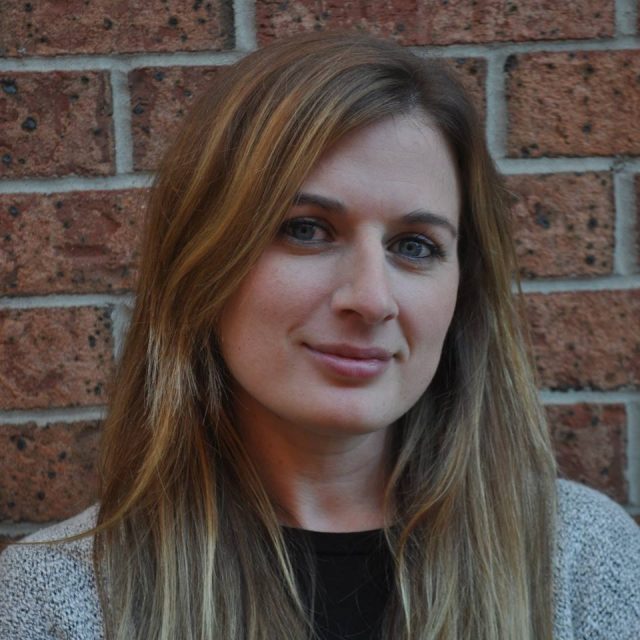 Christine Geiger, B.HSc. R.M.
Registered Midwife
Christine is graduate of the Midwifery Education Program from Laurentian University and joined Thames Valley Midwives in September 2016. She previously worked with Midwifery Care of Peel and Halton Hills – Brampton for a year post graduation.
Christine grew up in a small town north of London and is excited to be returning close to home. Before completing her degree in Midwifery, Christine graduated from McMaster University with a Bachelor of Arts in Medical and Cultural Anthropology. During that time, her passion to become a midwife grew when she travelled to Malawi to volunteer with midwives. Before entering the program she worked as an English teacher in Busan, South Korea. Christine has always had a passion for child and family health and is honoured to support the families of London and the surrounding area.
Christine and her husband welcomed the birth of their daughter in November 2017 and their son in March 2020, both born at home.

Theressa Grech, B.HSc. R.M.
Registered Midwife
Theressa is excited to join the Thames Valley Midwives Team in November 2017.
Theressa grew up in Brampton, Ontario. She moved to Malta, Europe where she completed her midwifery training and earned a B.Sc. with Honours in Midwifery at the University of Malta in 2007. After working several years in Malta, Theressa moved to Leicester, England where she gained further experience working with families of many different cultures in both low and high risk settings.
In 2016, Theressa returned home to Canada and completed the International Midwifery Pre-registration Program through Ryerson University; completing course requirements of a three month work placement with a practice in Guelph. She looks forward to meeting and supporting new clients, and their families, as they navigate through pregnancy, birth and parenthood.

Jessica Riley, B.HSc. R.M.
Registered Midwife
In 2017, Jessica had her final Clerkship placement at Thames Valley Midwives and was excited to continue working at our practice upon completion of her bilingual degree in 2018 from Laurentian University. She was born and raised in Kitchener-Waterloo.
Jessica grew up with a passion for caring for others and decided to become a midwife to provide compassionate care for families during a monumental time in their lives. She also had a passion for languages and pursued French courses throughout school and officially completed her midwifery degree in French.
During Jessica's time in the Midwifery Education Program, she completed placements in Kitchener-Waterloo, London and Guelph. She looks forward to meeting and working with the diverse population of families in London and surrounding areas.

Jenni Sullivan B.HSc. R.M.
Registered Midwife
Jenni graduated from the Midwifery Education Program at McMaster University in 2019 after completing her senior year at Thames Valley Midwives. She is thrilled to have the opportunity to continue to work with the wonderful midwives and clients at Thames Valley!
Prior to entering the midwifery program, Jenni graduated from Western University with a BA in Philosophy. She then had the opportunity to volunteer as a peer mentor with young parents through the early year's centre at Childreach. Jenni found it was a great privilege to witness the strength of young people in her community and participate with them as they developed and realized their goals for their families. This experience, as well as her experience with midwifery care with her four children led her to an interest in midwifery as a career.
In her free time Jenni enjoys long distance running, crocheting, baking, playing the guitar and singing. Jenni greatly looks forward to participating in your care and helping you to realize your goals for your growing family.

Jessie Tarka B.HSc. R.M.
Registered Midwife
Jessie joined TVM in 2020 during our world pandemic after completing her final year as a senior student with our practice.
She grew up in Georgetown ON, and completed her first degree in Biomedical Science at the University of Guelph. Upon graduating, she was determined to find a profession where she could combine her love of science and reproductive health to serve people. Midwifery care fitted her values of choice and individually orientated care like no other profession and she began the midwifery education program at McMaster in the fall of 2016.
Jessie enjoys spending time with her dog Aston, hiking, playing board games and planning her next adventure.
She is excited to have the opportunity to be a part of your pregnancy journey.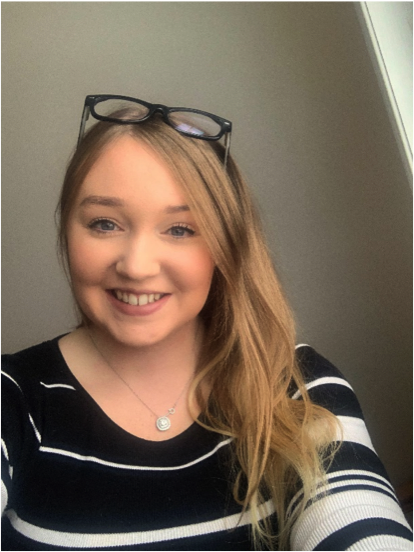 Joy Malcolm B.HSc. R.M.
Registered Midwife
Joy is an internationally trained midwife who joined the TVM team in 2021. Originally from the UK she started her midwifery degree at Edinburgh Napier University in 2012 and during her training took the opportunity to volunteer in Tanzania working on a limited resource labour ward to provide care to families from the local community and also the surrounding Maasai tribes. After qualifying, she worked as a registered midwife in Scotland at Edinburgh's main tertiary hospital and alongside birth centre, caring for low and high-risk families in all birth settings until moving to Canada in 2019 with her husband. She then went onto complete the IMPP program through Ryerson University in Toronto to be able to continue her midwifery journey and is thrilled to be able to provide care for families in the London area.
Outside of being a midwife you will find her walking the trails with her dog, baking her speciality lemon drizzle cake and exploring the beautiful country of Canada, if you see her out and about, please don't hesitate to come and say hello!

Laura Runne, B.HSc. R.M.
Registered Midwife
Laura graduated from McMaster University in 2021. During her time as a student she completed placements in Guelph, Hamilton, Fergus, and Auckland, New Zealand. 
Laura grew up on a grain farm in rural Manitoba and knew she wanted to care for others at a young age. 
She started out in a different undergraduate program at University of Manitoba and then discovered midwifery. One of her favourite aspects of midwifery is being able build relationships with her clients and help them make the best decisions for their families. 
She is excited to be a part of your journey. 

Annie Bowen, B.HSc. R.M.
Registered Midwife
Anne (Annie) Bowen is a graduate of McMaster University's Midwifery Education Program. She is thrilled to be joining Thames Valley Midwives after completing her final year as a senior student with the practice. 
Prior to her enrolment into the Midwifery program, Annie completed two years at the University of Western Ontario studying Kinesiology, with a minor in women studies. During this time, she became enthralled by the work of midwives and by their passion to advocate and care for their clients. Born and raised in Toronto, Anne is fuelled by diversity and hopes to provide care and support to the diverse clientele within the London area. 
Outside of work Anne enjoys running, playing hockey and reading. If you see her out and about, please say hi! 

Marie Page, B.HSc. R.M.
Registered Midwife
Originally from Oxfordshire, UK Marie is an internationally trained midwife who started her Midwifery Degree in 2004 and worked in the UK for 15 years before completing the IMPP in 2021 here in Canada servicing Mississauga and Brampton clientele before moving to Thames Valley Midwives.
Marie has loved every minute of her midwifery career and has many years of valuable experience caring for both low and high-risk families in all birth settings.  Spending many years working in the community Marie has developed a particular passion for supporting homebirth.
" I believe my role is to empower my clients to be key decision makers in their care and help them to achieve a positive pregnancy and birthing experience regardless of what each birth may look like and I am very excited to share you & your families special journey."
At home Marie has 2 sassy girls and has been lucky to have experienced care from midwives for her births in both the UK and Canada, both very different pregnancies and feels privileged been had Canadian midwives support her own homebirth.
When not being a midwife you can find Marie at home reading in the rare quiet moments, biking the trails with her family or enjoying the Canadian winters with a new love of skiing.

Nicole Vint, B.HSc. R.M.
Registered Midwife
Nicole is a 2023 graduate of McMaster University and is excited to be starting her career as a midwife with Thames Valley! 
Prior to pursuing midwifery, she spent half a decade volunteering abroad focusing on humanitarian missions. She discovered her passion to serve people through advocacy, acceptance, and empowerment. Nicole loves midwifery for its unique emphasis to support client autonomous decision making, and she strives to promote a gentle, and empowered birth experience with a holistic perspective. 
Outside of work, she enjoys exploring the beauty of nature with her dog through hiking and camping. Otherwise, you may find her trying a new recipe, or curled up reading a good book. 
Nicole passionately embraces the infinite opportunities for growth and is thrilled to connect with and support new clients as they navigate one of life's transitions into parenthood. 

Mercer Wilcock, B.HSc. R.M.
Registered Midwife
Mercer joins us from the west coast having graduated from The University of British Columbia while living on the beautiful island of Salt Spring. Originally from London and having lived everywhere, she has returned home to join Thames Valley Midwives.
Mercer's Interest in midwifery stemmed from both a personal health crisis and a master's degree in International Development, focusing on maternal and child health. Mercer is fascinated with midwifery in a global context and is also an IBCLC (International Board Certified Lactation Consultant).
In her past life she has travelled the world as a professional scuba diving instructor but now her spare time is spent refinishing vintage furniture, renovating her century home, and chasing her five wild island kids, all born at home with the loving support of midwives.

Monica Toth, B.A PMP
Practice Administrator
Joining Thames Valley Midwives in July of 2006 as Practice Administrator, Monica brings with her years of administrative and project management experience.
Monica manages our office and oversees the daily operations of the practice. She lives in London with her husband and daughter Hannah, who was delivered by Thames Valley Midwives.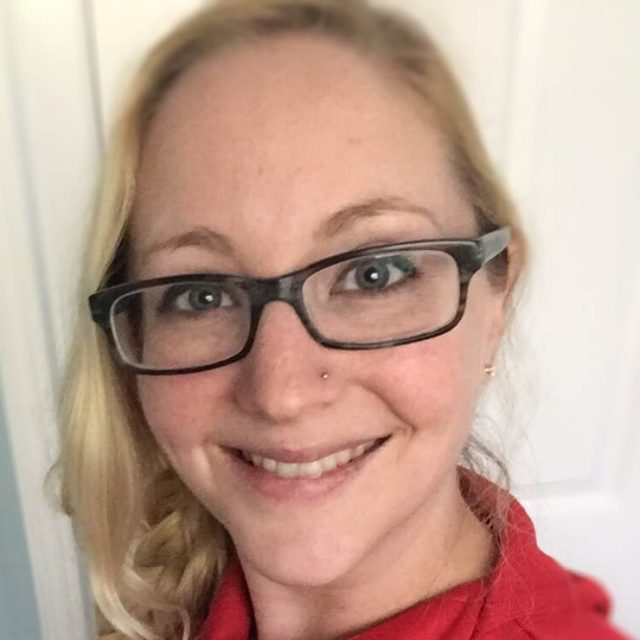 Kate Taylor R.N.
Second Attendant
Kate brings a wealth of knowledge as an experienced labour and delivery nurse working at London Health Sciences Centre after she graduated the Fanshawe College Nursing Program in 2003.
She currently provides nursing care in all areas of obstetrics and has special training in neonatal bereavement, high-risk and operative skill development, family-centered birthing practice, breastfeeding advocacy and education. Kate is also an active member of several committees and councils which serve to improve the quality of care accessed by families in Southwestern Ontario.  She is an active voice for clients, working to ensure the needs and desires of each family are heard and supported by the multi-disciplinary team at the hospital.
Kate has demonstrated a passion for autonomy-centered empowerment and advocacy in her practice.  She believes strongly in the power of the birth experience and the importance it brings to each individual.  She is extremely happy to be a companion member of midwifery groups in the community, with whom she has worked closely as a second attendant providing supportive care within the hospital and home settings.
As a second attendant, you may not get the pleasure of meeting Kate until your baby is almost ready to be born. She will bring a warm glow of energy to guide you and your family through the birthing process.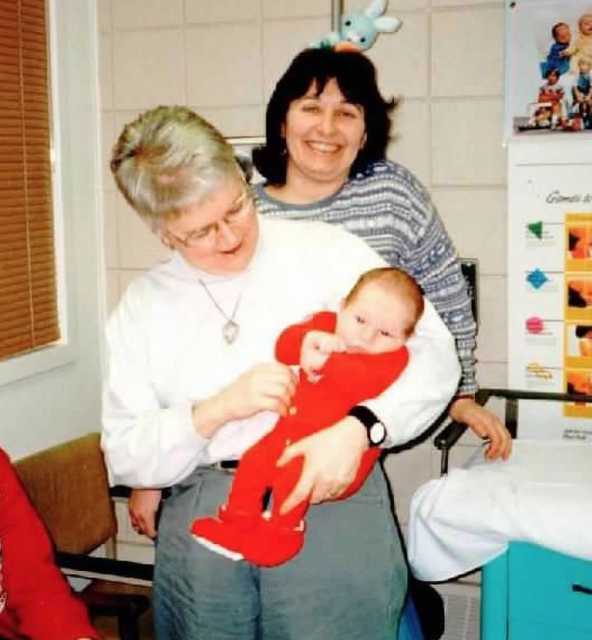 Kathi Wilson & Heather Struckett
Retired Midwives
Kathi & Heather are the founding partners of Thames Valley Midwives established in 1997.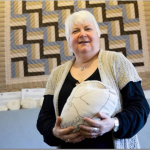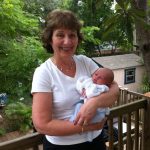 Kathi graduated in 1996 as part of the first class to complete the Ontario Midwifery education program after serving with the Ontario midwifery Task Force, which worked toward legislation of midwifery during the 1980's and 1990's. She had been attending births since 1983. During Kathi's career, she served on the board of the Association of Ontario Midwives, was an associate member of the Society of Obstetricians and Gynecologists of Canada and represented midwifery on several SOGC committees. For many years, Kathi was also the Chief of the City-Wide Department of midwifery for St. Joseph's Hospital and London Health Sciences Centre.
Kathi continues to share a wealth of knowledge to our future generation of midwives as an assistant professor in the Midwifery Education Program at McMaster University. Her retirement from practising Midwifery in the flesh has allowed her more time to focus on her beautiful grandchildren, her passion for cooking & traveling as well as dedicating more time to the students of midwifery.
Heather embarked on her journey as a midwife in 1997 becoming a founding partner of Thames Valley Midwives after graduating from the Midwifery Education Programme at McMaster University.
Prior to the legislation of midwifery, Heather was quite active in the midwifery Task Force of Ontario and London Home Birth Group. Heather over the years took a special interest in postpartum depression including hard work with the LifeSpin Program and MotherRisk. Following her retirement, Heather now enjoys spending time with her gorgeous grandchildren, trips to Florida & folk dancing!!
Our practice wouldn't exist without these two wonderful midwives, and we are forever thankful!