You may choose to give birth at home, at London Health Sciences Centre Hospital in London, or at Woodstock Hospital, where we have privileges. During your prenatal visits, your midwife will offer you the information needed to make an informed decision about the right place for you to plan to give birth.
In rare circumstances, when all the on-call midwives are attending births, it may be necessary for clients planning a home birth to come to hospital to give birth.  Similarly, clients may very occasionally be required to give birth at a hospital other than the one they had planned to use, either due to midwives already attending a birth at another facility or due to a lack of available labour/delivery beds at an individual facility. The majority of our hospital births take place at London Health Sciences Centre, therefore, clients planning births elsewhere may be required to give birth at London Health Sciences Centre.
During dangerous weather conditions, it may become necessary for your midwife to transfer your care to an obstetrician if planning a Woodstock Hospital delivery or if planning a home birth outside of London.
Midwives facilitate the collaborative process of informed decision-making and recognize clients as primary decision-makers about their care, including where they choose to give birth. As there are risks and benefits to any birth place, your midwives will discuss these risks with you when making this important decision. The College of Midwives of Ontario requires midwives to support choice of birthplace within the scope of midwifery practice. Midwives are also responsible for identifying contraindications to out-of-hospital births; such as multiple birth, breech presentation, post-term pregnancy beyond 43 completed weeks, and preterm labour prior to 37 weeks, as well as some other complications that may arise prenatally. 
The Association of Ontario Midwives have put a guide together to assist you with choosing the right place to give birth for you – Home Vs Hospital:
If you are first time parents, please click this link (English) or click here (French).
If you have had a baby before, please click the link (English) or click here (French).
Home birth provides low risk clients the option of remaining at home for the birth of their baby. 
For clients at low risk of complications and their babies, giving birth is generally very safe.
For clients at low risk of complications who value low intervention birth, planning a home birth is particularly suitable, because rates of obstetric intervention and negative health outcomes are lower and neonatal health outcomes are no different. 
Compared with hospital, planning birth at home is associated with lower rates of obstetrical complications such as postpartum hemorrhage, perineal trauma (3rd and 4th degree tears) and episiotomy. Having your baby at home is also associated with higher rates of spontaneous vaginal birth, lower rates of caesarean section, forceps and vacuum delivery and lower rates of epidural use.
Some reasons clients choose home birth include:
Wishing for more privacy and a quieter environment, so you can labour undisturbed. It is well-known that being in an environment which feels safe and supportive, can allow your body to produce the hormone oxytocin, which produces contractions, more efficiently.  A labouring person needs to feel they can let go, be entirely open to birth, and do whatever is needed to cope. This can be hard to do in a hospital setting, with regular hospital required checks, hospital policy to only allow fluids in labour (no food), lights on, and background noise.
Reducing the risk of a hospital bourne-infection to both you and your baby.
Preferring to be in the comfort of your own home where you can feel comfortable, eat your own food, move around your home freely.
Waterbirth is an option at home, and not currently in hospital.
History of previous quick delivery, or fear that you will not make it to the hospital (delivering your baby in the car en-route).
Wishing for less intervention and reducing your chances of intervention by remaining at home.
There is no stress about deciding "is it time to go?"
You don't have to go anywhere! Your baby is here, you can shower and climb back into your own bed.
Previous negative or traumatic hospital birth. You want to be empowered for this birth and make your own decisions.
Sometimes partners have a more positive experience and feel more actively involved in the birth process when it happens at home. Often the investment in preparing for birth means your partners are as knowledgeable about the process as you are. This enhances the experience for all of you. 
Pain relief options at home:
Acetaminophen for early labour.
TENS machine.
Pool specifically for water birth or tub (if large enough to deliver your baby in). Regular bathtub for labour only.
Nitrous Oxide gas using a mouthpiece (we found clients reported the mouthpiece felt less suffocating than a mask) Nitrox oxide can also be used in the pool if planning a water birth.
Sterile water injections.
Birth ball, birth stool/chair.
Different positions including squatting, stair lunges, all fours, rocking with your partners, showering…going with whatever feels more comfortable.
Massage – some clients choose to hire a massage therapist for their labour. Some doulas are certified RMT's also.
Aromatherapy and homeopathics.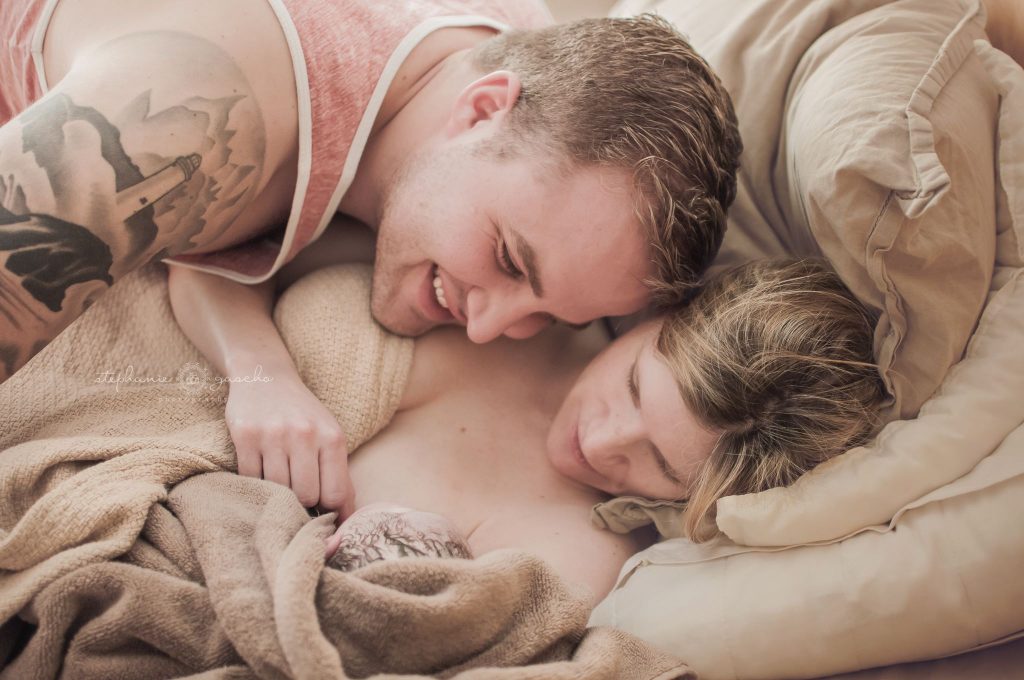 This is a common concern for families when thinking about home birth. As midwives we respect that you are having your baby in your home, and do our very best to protect carpets, beds and furniture from "mess". Not all births are messy however, and very little clean up is generally required. At your 36 week home visit, your midwife will bring a "Home Birth Box" which will contain essential disposable items for the birth such as pads to prevent leaks, instruments for the birth, and hospital-grade wipes. Once your baby is born, we will assist with changing bed linen, helping you into the bath or shower, washing down surfaces and tidying up garbage or laundry into bags, as well as packing up all of our essential non-disposable equipment. The placenta is usually placed in a container with a lid for garbage day, unless you wish to freeze it if you plan to plant a tree (storage in winter months) or decide to encapsulate. The list of items required can be found by clicking the link below.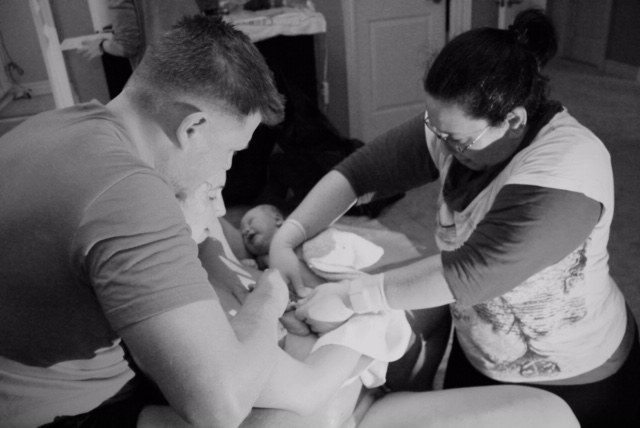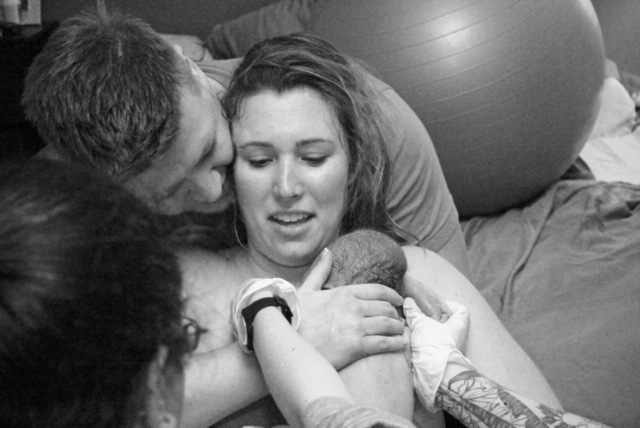 What do midwives bring to a home birth?
Most people have no idea midwives bring SOOOOO MUCH medical equipment and medications to your home to help you safely deliver your baby. It's true!! We carry a mini hospital in our cars 24 hours a day when we are on-call. We essentially carry equipment and medications you would find at a level one birthing unit such as Woodstock Hospital. Our equipment allows us to monitor and assess your baby during labour, birth and postpartum, and respond to any emergencies in the event they arise.
Your midwife will provide you with a "Birth Box" at approximately 36 weeks gestation, and a medication to keep in your fridge. Your birth box will have mainly disposable items that will help us to contain "mess" and clean up, as well as some items for you and your baby. The box will be sealed with tape to make sure everything stays clean. Please do not open the box and store it safely away from little ones and pets.
This short video will describe the equipment and medications that your midwife will bring to your home. 
Video compliments of Ontario Midwife Annabel Cope
What happens if things don't go to plan?
As midwives, we have the training and skills to plan and prepare for an uncomplicated home delivery and achieve the birth you desire; however we cannot always predict whether your baby or your body has the same plan.
We use our skills and training to identify complications early on, correct developing complications, and know when to involve specialists like an obstetrician or paediatrician.
While most planned home deliveries occur at home, there are a number of reasons a planned home birth could end up occurring in the hospital. Here are a few examples to give you an idea of what midwives will look out for during your labour, birth and postpartum.
Non-urgent transfer to hospital:
Most people move from home into the hospital for non-urgent reasons. As these situations are not emergent, you will meet your midwife at the hospital by car or taxi. The most common reasons are:
Epidural pain management.
Oxytocin IV pump to speed up a labour that is progressing very slowly. 
Emergency transport to hospital:
While it is very uncommon to transfer to hospital by ambulance, here are a few common emergencies requiring transport: 
Heavy bleeding after the birth (post-partum hemorrhage).
Concerns about the baby's heartbeat during labour or their breathing after the birth.
If an urgent transfer to hospital is required, your midwife will call an ambulance to transport you or your baby to the nearest hospital. The hospital team will also be notified to prepare for you or your baby's arrival. If the situation allows, your midwife will instruct the paramedics on which hospital to transport to, as some hospitals do not have a birthing unit. Local hospitals in our catchment area include London Health Science Centre, Woodstock, and St. Thomas Elgin General (our midwives do not have privileges at St. Thomas Elgin General). 
Depending on the situation, your midwife will either accompany you in the ambulance or meet you at the hospital.
At the hospital transfer to a doctor:
Midwives work with a wide range of other healthcare providers in hospitals to make sure that you receive safe, excellent care.
Sometimes it is recommended that a doctor takes over parts of your care or your baby's clinical care.  If this is the case, your midwife will continue to offer supportive care, comfort and information.  They will take over clinical care once you and/or your baby's condition has improved. 
Common FAQs about home birth:
Click on "Common FAQs" below to see The Association of Ontario Midwives list of most common questions asked about home birth:
London Health Sciences Centre Hospital
After St. Joseph's Hospital closed their Maternity Unit in 2010, LHSC Victoria Hospital became London's only birth centre after renovations were completed to open the new "B Block" building. Approximately 6,000 babies are born annually at this Level 3 hospital.
The Birthing Centre is located on the 4th floor of Zone B and has a triage assessment area, 16 birthing rooms and 4 caesarean section operating rooms. There are obstetricians available 24/7 as well as a neonatal intensive care unit.
The birthing rooms are private with en-suite washrooms and a large jetted corner bathtub. As per hospital policy, you are allowed to have two designated birthing partners with you in the birthing suite. There are no switching of partners allowed. After your baby arrives, we do ask that you have your family members/visitors meet you over at the Mother/Baby Unit once the midwives leave. This will allow your midwives to provide you with the best one-on-one care without stepping over family members in a small birthing room, prevent delays upon checking you and your baby, and allow them to clean you up first while providing breastfeeding or bottle feeding support. 
The Mother/Baby Unit is located on the 4th floor of Zone C and D. Rooms are semi-private with shared washrooms. Private rooms can be requested at a cost depending on availability. You may have one partner stay with you overnight; however, a chair converted to a bed will be subject to availability. There is no longer anywhere to store or heat your food on the postpartum wing, therefore any food brought by friends or family must be discarded. Family visits in the Mother/Baby Unit are allowed anytime during daytime hours.
You are not required to pre-register at this hospital as a midwifery patient. Your midwife will give you a package to fill in at home when you are 28 weeks along. You can then submit your paperwork via Canada Post or visit the unit if you wish to have a look around.
Prior to assessment at LHSC, clients of midwives are required to page their midwife before attending the hospital unless the client is in an emergency situation. Midwives are primary health care providers, and your midwife will assess whether you need a hospital assessment over the phone first.  If your midwife needs to assess you at the hospital, she will make arrangements with you regarding a time to meet or she will have another midwife meet you if she is unavailable. If you need to be seen by a doctor, your midwife will be able to arrange a consultation and make the necessary arrangements for your arrival. If you arrive at the hospital without paging your midwife first, you will be asked to wait until she arrives or until the necessary arrangements are made. This will delay your treatment, so we urge all clients to page midwives first.
LHSC offers a "Siblings Tour" for children aged 3-6 years old who are expecting a new arrival. The tour allows siblings to participate in getting ready for their new baby. The classes are free and held on Saturdays once a month from 10-11am. To book the tour please call 519-685-8500 ext. 58438.
LHSC Victoria Hospital Labour and Delivery tours are run by midwife Theressa Grech. There are limited spots available, so we encourage you to sign up ASAP to avoid disappointment. You can find out more by clicking the button below.
This hospital has an infant security system; a security band will be placed around your baby's ankle once you arrive onto the postpartum unit. Should your baby be removed from the ward or taken too close to the elevators, the unit will lock down and security alarms will be set off.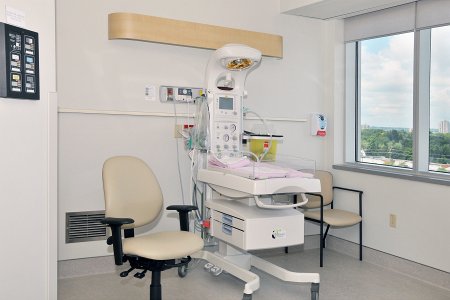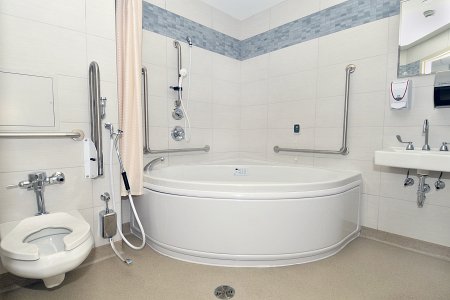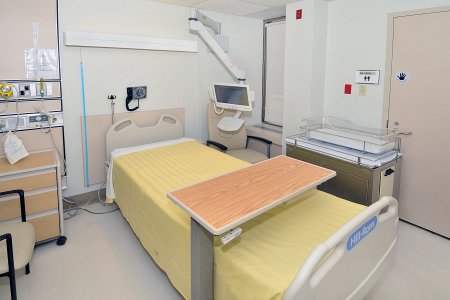 Pain relief options at LHSC Hospital:
Acetaminophen ("Tylenol") for early labour.
Jetted bath tub for labour only -no deliveries are allowed in the tubs.
Nitrous Oxide gas using a mask covering the mouth and nose.
Sterile water injections with the midwife only.
Birthing ball or squat bar.
Massage – you may want to bring a heating pad for comfort.
Narcotics – Morphine can be given during earlier stages of labour to assist with reducing painful contractions. It cannot be given during the latter stages of the First stage as it can suppress your baby's breathing once born.
Epidural upon availability. Long waiting times can be expected at busy times, as epidurals are prioritized based on emergencies.
Victoria Hospital – LHSC
800 Commissioners Rd East, London ON, N6A 5W9
Enter off Baseline Rd. E., and park in P8 the first multi-story car park nearest the B Block Building.
Parking costs $12 per day max. The first hour is $4, then $2 each consecutive hour after that.
During the evening, the walkway is sometimes not accessible to the public, and you must enter through the main entrance of B block building.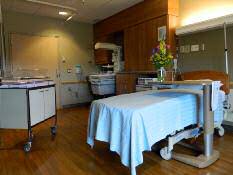 Woodstock Hospital is our community level one unit, and around 900 babies are born annually at this hospital.
In some circumstances, such as the limited availability of midwives or due to midwives already attending other births, your midwife may require you to come to London Health Sciences Centre Victoria Hospital to give birth instead of at Woodstock Hospital. Should you be unable to get to LHSC hospital safely, your midwife may instruct you on the necessary plan of care, which may include transferring to an obstetrician for the birth until a midwife becomes available. Please note: we do not perform inductions of labour at this hospital if it is your first baby due to resources. We also cannot guarantee we can perform an induction of labour at this hospital if this is a subsequent pregnancy. 
The Birthing centre is located on the second floor and has a triage assessment area, five birthing rooms, and an operating room for caesarean sections.
The labour and delivery rooms are private with en-suite washrooms, and jetted bathtubs. As per hospital policy, you are allowed to have two designated birthing partners with you in the birthing suite. Switching birthing partners is not allowed. There is no waiting room for other family members to wait for the arrival outside of visiting hours. If you deliver your baby during visiting hours, we do kindly ask that you have your family members/visitors wait for the midwives to leave, as we want to give you the best one-on-one care without stepping over family members in a small birthing room, prevent delays upon checking you and your baby, and allow them to clean you up first while providing breastfeeding or bottle feeding support. 
After you have your baby, you will either remain in the birthing suite or be moved to a private postpartum room all with en-suite showers. One of your birthing partners can stay with you overnight on the couch or pull out chair bed. There is a small patient kitchen where you are able to store your own food in the fridge. You will be offered a menu to fill out for meal times.
Obstetricians and anaesthetists are not always on site at this hospital and do require your midwife to page if needed for a consultation or epidural.
This hospital does not have a neonatal intensive care unit. If your baby is sick, and requires care by specialists, transport will be arranged for your baby to go to London Health Sciences Centre Victoria Hospital. Often a team from London will bring a special incubator for your baby to Woodstock via ambulance, and then stabilize your baby before transport back to London.
Sometimes epidurals at this hospital are unavailable as the doctors may be busy with other patients of the hospital who require more emergent assistance.
Registration is required at Woodstock Hospital, and a package will be provided to you by your midwife to book your appointment with Patient Bookings. You will usually attend a 45 minute appointment at 35-36 weeks of pregnancy with an obstetrical nurse.
Visiting hours are daily 10am-8pm but are limited to two visitors plus your birth partner and your own children at one time.
This hospital has an infant security system which provides computerized tracking of all newborns admitted to the unit. An infant security band will be applied to your baby's ankle shortly after delivery.
Pain relief options at Woodstock Hospital:
Acetaminophen ("Tylenol") for early labour.
Jetted bath tub for labour only – you are not allowed to deliver in the tubs.
Nitrous Oxide gas is not available at this hospital.
Sterile water injections with the midwife only.
Birthing ball, peanut ball or squat bar.
Massage – you may want to bring a heating pad for comfort.
Epidural upon availability as anaesthetist may be off-site or unavailable due to other surgeries/emergencies.
Woodstock Hospital – 
310 Juliana Dr, Woodstock, ON, N4V 0A4
Parking costs $4 max per visit.